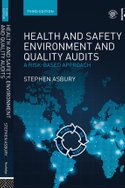 Featured book
The world's best-selling book on HSEQ management system auditing
Internal auditing is an essential part of governing any organization. Increasingly, health and safety, environment and quality are being audited by the same professionals to company's and external standards such as ISO 9001 for quality, ISO 14001 for environment and ISO 45001 for health and safety. Now in its third edition, this book delivers a powerful and proven approach to auditing these critical risk exposures aligned to ISO 19011.
A best-seller since its first edition in 2007, the book provides a step-by-step guide to technical and operational integrity audits which has become invaluable for senior management and auditors alike. In its 406 pages, the book:
Shows practitioners and students how to carry out internal audits to the key international HSEQ standards
Contains 50 case studies and 90 ' A-Factors' for critical success, and superb new illustrations
Includes documents, forms and practical tips to make learning easier.
Along with its companion website, this new edition covers each of the aspects that need to be taken into account for a successful risk-based audit, and is an important resource for auditors, managers, HSEQ professionals, and others with interest in governance, assurance and organizational improvement.
View or purchase this book on Amazon
See Stephen's Amazon Author page here